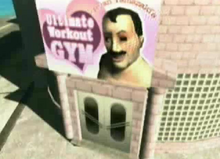 Ryan's Gym is the local gym at Santa Destroy owned by a possibly homosexual man named Ryan. At the gym, Travis can increase his stamina & his strength by playing minigames. In the stamina minigame, Travis must run on a treadmill by alternately pressing the Z & B buttons and moving in the opposite direction of the treadmill for 30 seconds.
On higher difficulty levels, the treadmill's direction changes more frequently. In the strength minigame, Travis must attack or avoid projectiles thrown at him. A button is pressed to punch airborne projectiles, B button is pressed to kick ground projectiles, & by moving the control stick down Travis can duck to avoid hearts tossed at him. If Travis is hit by a heart he will be paralyzed for a brief moment. In higher difficulty levels, more projectiles are thrown, & are thrown at a faster pace. Both minigames start out at 2000 LB, and increase price at each difficulty. Each one has seven difficulty levels.
Ad blocker interference detected!
Wikia is a free-to-use site that makes money from advertising. We have a modified experience for viewers using ad blockers

Wikia is not accessible if you've made further modifications. Remove the custom ad blocker rule(s) and the page will load as expected.