No More Heroes: Heroes' Paradise
Talk

0
276pages on
this wiki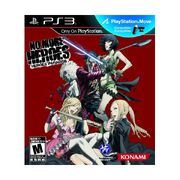 No More Heroes: Heroes' Paradise
is an enhanced port of
No More Heroes
released for the Playstation 3 and Xbox 360 in Japan. It was also released on Playstation 3 in America and Europe. Playstation Move support was made available for the western release and the Japanese re-release titled No More Heroes: Red Zone Edition.
Heroes' Paradise is simply an enhanced port of the original No More Heroes. Like the original the game involves the player character Travis Touchdown taking down the top 10 assassins in America. The player's primary weapon is a beam katana known as the Blood Berry, but players can purchase new beam katanas and upgrades from Dr. Naomi's lab. The player can also perform professional wrestling moves on enemies as well. The flow of the game involves participating in side jobs and assassination missions to make money to progress and fight the ranked opponents. The world of the game is kept together by a small open world area known as Santa Destroy. Through the open world the player can visit Travis' motel room at the No More Heroes Motel, upgrade health and strength at the Thunder Ryu Bldg., participate in free fight challenges, find Lovikov Balls which can help Travis learn new techiques. The player also has a motorcycle known as the Schpeltiger to make world access easier.
Differences from the Original
Edit
Anarchy in the Galaxy slots saved from previous ranked matches can be carried over to future battles, or removed at the end of a ranked fight for money.
Very Sweet Mode - A mode unlocked after completing the game that features the female characters in more provocative attire.
Viewer Mode - An extras-type mode that allows players to rewatch cutscenes.
Rebout Mode - An extras-type mode that allows players to replay ranked matches.
In the Japanese version at the end of the credits instead of saying "I know too bad there won't be a sequel", Sylvia instead says "I know; can't wait for the sequel." This is because Heroes' Paradise released before No More Heroes: Desperate Struggle in Japan. It is unknown if this will be altered in the Western release, nor will Desperate Struggle might see a release on the PlayStation 3 or Xbox 360 in Western territories
Dream Battles With Skelter Helter, Nathan Copeland, Kimmy Howell, Matt Helms, and Alice Twilight.
Trophies and DLC such as new Beam Katanas and Bike Skins.
High-definition graphics
Japanese voice acting in Asian territores
Ability to warp straight to any Side-Job or Assassin Mission once the player has beaten any of them at least once.
A retry option was added to the Side-Jobs, Assassin Missions, and Free Fights. However, it only appears when the player has failed in either.
Five new Side-Jobs were added: Signaling, Sign Spinning, Kitty Race, Bust A Coconut and People Bowling.
Five new Assassin Missions were added; Guard Break, Power-Down Battle, Big Bang Anarchy, Shortcake Freaks and Crowded Train Carnage.
A "Score Attack" mode has been added that lets the player refight all 15 of the game's bosses and compete for a high score online. This is also the only way for players to refight all of the NMH2 extras as they don't appear in nightmare mode.