Mimmy
Ranking match
Henry's Dream
Weapon
Mechanic arms
First appearance
No More Heroes 2
Battle theme
We Are Finally Cowboys [Golden Brown Mix]
Voice actor
Debi Derryberry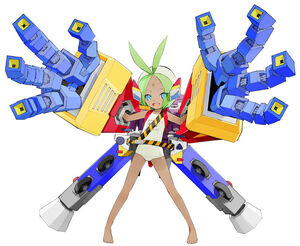 Mimmy is a character that Henry fights in his dream and is most likely a manifestation of the magical girl anime that he hears Travis watch while unconscious. She tries to make Henry stay in the dream forever. Though Henry offers her to come along, she thinks he's lying and fights him.
After defeating her, Henry stabs her back and she begins to inflate like a balloon, until she starts to look like a big blimp and she over inflates and pops.
The fight with Mimmy is the first and only time that Henry is playable (outside of hacking).
Mimmy's voice actor, Debi Derryberry, also voices another assassin, Matt Helms.
This is the only time where you can play as Henry in the No More Heroes series.
The music that plays during her boss fight is We Are Finally Cowboys [Golden Brown Mix], a remix of the track that played in the first game during the final fight with Henry.
The Kanji symbol on Mimmy's back stands for "moe".